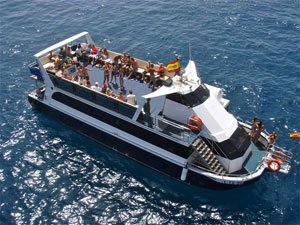 Gran Canaria, surrounded by the beautiful waters of the Atlantic, is a welcoming Canary island that offers its visitors a wide variety of activities to enjoy under the sun. Whether you are travelling with your family, a special one, a group of friends or on your own, Gran Canaria boat excursions and the practice of water sports are a must when it comes to making the most of your trip to the Canaries. Its warm winters and hot summers make Gran Canaria a fantastic place to spend a day out at any time of the year.
Gran Canaria boat excursions
are designed to suit everyone's needs. You may choose to spend all day at sea relaxing with your friends on our dolphin boat catamaran and make a stop for a swim and some
snorkeling
.
You may also choose to embark on one of our
boat excursions
. Kids and grown-ups alike will have a blast with the excitement of spotting dolphins and even whales if you are lucky.
And don't worry if you don`t see them right away. Our staff on the boat will tell you where to look. The conditions are indeed so ideal that 29 different species can be found and spotted here in Gran Canaria from the dolphin boat catamaran.
This alone is a good enough reason to visit the island.
With your family, dolphin spotting trips can be an excellent way to spend a day together.
They are also ideal for bringing your partner, as the gorgeous sunsets make for a most romantic spot. On top of this, they can also be a lot of fun and a great bonding opportunity.
If you choose to come here with your group of friends.
The reason for this is to take a break from stress and noise.
They can even be a convenient place to close a business deal!
While you are waiting for the dolphins to start leaping and splashing around, you can enjoy a drink on the boat or even have something to eat. Packages are also provided. Therefore, if you feel like spending the whole day at sea and having the boat all for you and your group, just click here or give us a call! It will surely leave everyone wishing the holiday would never end.
If you are feeling adventurous after the dolphin boat catamaran, you and your party can try the numerous activities the island has to offer, particularly water sports. You may have read that Gran Canaria is one of the most ideal places in the world to practise water sports and it is indeed. Come with us and experience and try
parasailing
or ride one of our
jet ski
Again, due to the wonderful water conditions, you may end up spotting not only dolphins but also rays, marlin and barracudas, to name a few. The kids may want to try snorkelling in its crystal clear waters, too. Sea life is abundant (and happy) here.
What are the best boat excursions to take in Gran Canaria?
Some of the best boat excursions to take in Gran Canaria include dolphin watching, diving, jet skiing, and sailing.
What type of boat excursion can I choose from?
There are a variety of boat excursions to choose from, including a dolphin boat catamaran, a speedboat, and a sunset cruise.
Can we see dolphins while on the boat?
Yes, you can spot dolphins while on the boat.
How many species of dolphins can be seen on a dolphin boat catamaran ride on Gran Canaria?
There are 29 species of dolphins that can be spotted from a dolphin boat catamaran ride on Gran Canaria.
---
Free bar,lunch & Tropical Fruits
Free Bus transport & Dolphin search
Submarine views & snorkeling & banana boat
Discover the dunes of Maspalomas.