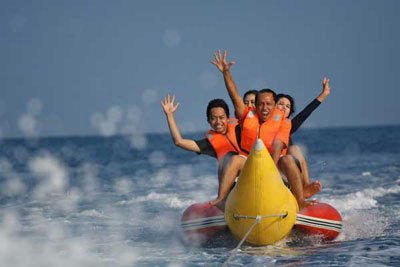 Challenge yourself on our Banana Boat ride
One of the funniest activities in our
boat trip
is the banana ride. Even if you are planning your holidays in winter, come to Gran Canaria boat trips and enjoy the chance of having a nice climate all over the year.
The south of Gran Canaria has more than 300 sunny days a year and the water temperature is ranging from 18ºC in winter and 22ºC throughout the rest of the year. The optimum clear blue sea and wind conditions invite to practice water sports all twelve months.
That is why our catamaran boat offers this trip and gives you the chance to take our amusing banana ride to feel the marine life of the island very close to you. It's included in the price, you can't miss it!
Don't you know what a banana boat is?
A banana is a recreational boat that's inflatable and towed behind a boat. Our rafts can accommodate several riders so it is the only affordable water sport that the whole group or family can do together to have some fun in group. It is appropriate for kids and adults as young as 90!
The banana boat ride is pure fun on the water and if you are looking for a great way to cool off on a hot sunny day, you should try it and enjoy the exhilarating speed, with the wind in your hair and the waters of the Atlantic Ocean whizzing by underneath you.
Pulled with one of our jet skies, they will ride you out to the ocean for a fun filled trip. Make sure you have your bathing suit on as you will get ride. Take your family or friends and you won't regret it!
Banana rides are the best activities to share in group during our catamaran boat trips, and they are included in the ticket.
What kind of safety equipment should you wear? Riders should always wear lifejackets, during this activity the driver of the boat will often make sharp turns in an effort to flip the banana boat and make its passengers take a bath. Our crew will give you the equipment and you only will have to get ready for fun!
Try to hang on to the boat as the rider does his best to flip your banana and get you wet. It's a battle to see who will emerge victorious!
Can you hang on to it?